Graphic designers create the dynamic visual communications that power the world around us. Whether you live in a big city or in the middle of the prairie, designers create the ads you eye, the brands you love, and the magazines you devour.
If you like working with text and images to create visual messages, if you live where art, business, and technology intersect, consider agraphic design majorat Sessions College. Earning a Bachelor's Degree, Associate Degree, or Certificate in Graphic Design can give you the skills, portfolio, and confidence to launch or advance a creative career.
Earning a degree or certificate in graphic design in one of our fully online programs can give you the skills confidence and portfolio to begin or advance your career as a graphic designer.
At Sessions College our programs range from flexible Certificate Programs to our comprehensive AOS Degree program. Find out which online Graphic Design program is right for you.
Bachelor's Degree in Graphic Design
TheBachelor of Fine Arts (BFA) in Graphic Designprogram prepares creative individuals for careers in communication design. This online Bachelors Degree in Graphic Design program is designed to produce graduates with the skills and attributes for a global audience and tomorrow's challenges: resourceful, adaptive critical thinkers who are prepared to excel in a professional environment, and whose work is based on effective research, creative problem-solving, and design methodology.
Our premier 120-credit Bachelor's degree program, completed in under 4 years.
Customize your education plan to create a professional portfolio
Focus on research and presentation
Real world applications include work experience
Associate Degree in Graphic Design
TheAssociate of Occupational Studies (AOS) in Graphic Designprogram offers an intensive two-year degree for students seeking to enter careers as graphic designers with a focus on print design. Designed for high school graduates and adult learners, the program offers a powerful foundation in visual design and a working knowledge of contemporary design practices and media.
Comprehensive 72 credit, 2 year degree program
Includes Portfolio Review and Design Business course
Financial aid andcreative scholarshipsfor students who qualify
Undergraduate Certificate in Graphic Design
TheUndergraduate Certificate in Graphic Designprovides a thorough foundation in graphic design. Students gain an understanding of the fundamentals of color, typography, and composition and how to apply them using Adobe Photoshop, Illustrator, and InDesign. Students apply current production methods and techniques to exciting projects that include poster design, magazine layout, identity design, and packaging design.
Focused 24 credit, 2 semester program
建立一个投资组合和把握ce your career
Financial aid for students who qualify
Undergraduate Certificate in Print Design
TheUndergraduate Certificate in Print Designwill provide intermediate design students with multiple opportunities for portfolio development in graphic design. Students entering the program are expected to have a working knowledge of Adobe Photoshop, Illustrator, and InDesign, as they will be building upon the basics and applying their skills to challenging projects. Students will learn design techniques and apply them to exciting projects that include packaging design, identity design, invitation design, and more.
Focused 24 credit, 2 semester program
Enhance your portfolio and advance your career
Financial aid for students who qualify
100% ONLINE CREATIVE EDUCATION
Why Choose Sessions College?
Studying online can be a flexible, affordable, and exciting way to grow your creative skills and earn a degree. With 24/7 access to an online classes, and no set login times, you can study on your own schedule. At Sessions College, you can gain industry-relevant art and design skills in a project-based curriculum. Get the critiques you need from our expert faculty and watch your creative work flourish.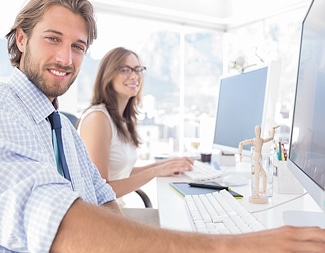 What Graphic Design Careers are Available?
专业平面设计师沟通的概念s using art and technology skills. One in five graphic designers were self-employed in 2018. Potential employers for graduates include printers, publishers, specialized design firms, advertising firms, and computer systems design firms. Our programs can help propel you into the careers of the future. Here are some potential job titles for graphic design graduates.
Creative Director
Video & Film Editor
Graphic Designer
Product Designer
Web Designer
Multimedia Artist
Animation/Animator
Art Director
Visit ourGraphic Design Career Guidefor more information, or browse theFederal Occupational HandbookorO*NETdatabase.
Online, Affordable, and Accredited